IPS series automation is equipped with 10 PT100 programming programmers. Each burner can complete the operation independently, and it can burn up to 80 chips at a time (10 sets of x8 groups). This programming programmer can not only support large-capacity flash memory chips, but also deal with automotive electronics, medical equipment, drones and high-end MCUs!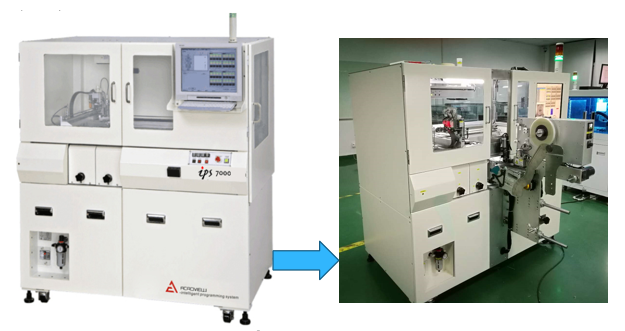 Three working modes
1) USB connection mode. Communicate with local PC through USB2.0 port (high speed) to realize online control;
2) RJ45 online mode. Connect to LAN through network cable to realize local or remote PC communication and realize online control;
3) SD card offline mode. Comes with a keyboard, LCD display, removable memory (standard SD card), can be run independently offline, easy to operate, easy to expand, the most suitable for mass production on site. Project files (the number is limited only by the capacity of the card) are very convenient to create (you can create and copy to the SD card without being online).
IC support is extremely wide
Nor Flash/Nand, flash, EMMC, EEPROM, EPROM, Micro-controller, CPLD, CMOSPLD, FPGA, Anti-fuse and other customized chips.
The embedded high-speed FPGA bandwidth can exceed 1.6Gb/Sec at the fastest, and supports programming at the maximum speed allowed by the IC.
Wider voltage range Supports VCC/VCP/VPP devices with a wide range of processes from 1.2V to 13.0V.
The advanced and precise pin drive technology can provide high-speed, stable and accurate signals of the original IC specifications, with higher programming speed and higher yield.
The chip safety guarantee mechanism has a built-in precision voltage self-test circuit to ensure that the voltage is within the preset accuracy at any time;
Self-diagnosis function diagnoses hardware faults at any time to ensure that the machine is in good condition; automatically before operation
Detect chip misinsertion, reverse insertion and poor pin contact; check chip ID code before operation.
The programmer protects the perfect over-voltage\over-current and ESD protection functions to avoid damaging the programmer/writer/writer.
Green and environmentally friendly products, truly green and environmentally friendly (power efficiency 90%), energy-saving programming equipment, no fan required.
The setting operation is extremely simple. After selecting any USB/RJ45/SD card connection, select the setting programming function (Program, Verify, Auto..., etc.) to start.
Friendly and powerful software functions simplify operation, avoid errors and improve efficiency
1) Project. Save various operations and settings of the user on the target device, including device model settings, loading of programming files, setting of configuration bits, batch processing commands, etc., in the project file, one step into the writing operation every time it runs , Effectively reduce the probability of misoperation.
2) Batch (Auto) command. It allows users to organize common command sequences such as erasure, blank check, programming, verification, and encryption into a single command that can be completed in one step.
3) Mass production mode. Check the status of the socket. Once the chip is detected and the operation is automatically started, there is no need to manually press the button. Dynamic buffer. The data written for each chip can be different. The software automatically completes the data changes according to user requirements, including standard and customized serial number generators (such as MAC addresses, etc.).
4) Log files. Facilitate quality tracking.
5) Intellectual property protection function. SD card encryption, project file authority management and encryption, output limitation, remote control.
6) File format. Support almost all known file formats and have automatic file format recognition function.
7) Real-time status display. Very intuitive real-time display and analysis of programming status and production statistics.
8) Customized algorithm. Accept user's special function and algorithm software order.
9) File mirror management. Super image image management, including ECC, bad block processing, etc.